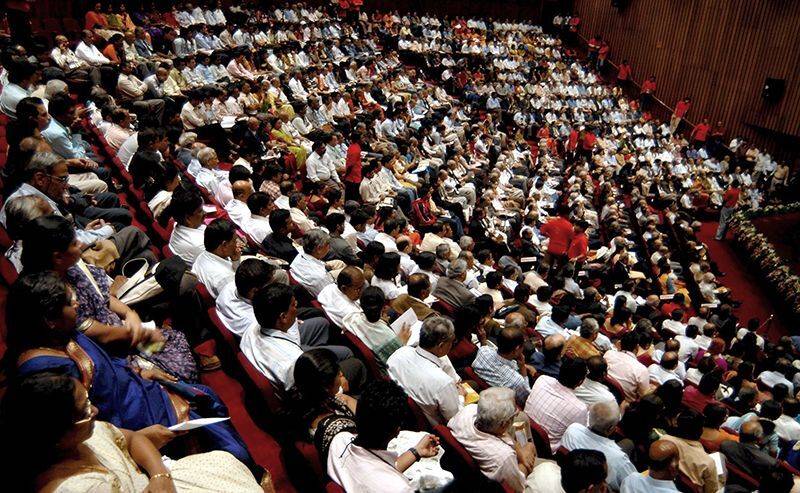 Indian initiatives aim to break science's language barrier
Drive for accessibility sees research relayed in regional tongues instead of English
Scientists and policymakers across India are aiming to bring science to the nation's citizens and residents whose main language is not English. They're producing content such as articles and podcasts, and giving talks about discoveries and studies in health science, biology, biotechnology and astronomy in some of the nation's 22 official languages, including Hindi, Marathi, Kannada and Tamil.
As one of the languages used officially by the Indian government, English is largely considered to be the country's language for science — but just 12% of the nation's 1.3 billion citizens can speak and write it. Those who are trying to broaden the mix note that many more people will be able to access scientific content if it is available in other languages. "Speaking and writing in regional languages makes science more inclusive," says Maggie Inbamuthiah, founder of Mandram (which means 'platform' in Tamil), an organization based in Chennai that seeks to create a platform on which ideas in science and technology are communicated in regional languages, including Tamil and Kannada.
Initiatives to write about science and produce science-related content in languages other than English have been under way for several decades, as many urban schools and most higher-education institutions moved to an English-based curriculum. Those multi-language efforts started to expand with the advent of the Internet, which has provided easy access to content, new media, platforms for distribution, and the ability to find collaborators and new audiences. Digital spaces and media have brought new players to the undertaking, and have re-energized those who have been involved in these efforts for years.
Language evolution
Although digital platforms and social media help researchers and others to communicate scientific findings and discoveries to the public, any such endeavour is pointless if readers, viewers or listeners cannot speak or read that language. Few of India's languages have an up-to-date lexicon of scientific terms, and many researchers in the country have long become accustomed to thinking and writing about science in English, says Inbamuthiah. Still, she notes, language is fluid and adaptable. "We enrich a language by adding new words," she says. "With time, we become more comfortable using them."
Today, the effort to communicate science in multiple languages has a number of participants. Kollegala Sharma, a zoologist and senior principal scientist at the Central Food Technological Research Institute (CSIR) in Mysuru, India, has been producing Janasuddi (jana means both smart and knowledge and suddi means news in Kannada), a weekly science podcast, since September 2017. The 20-minute episodes, which comprise science research, news and interactive sessions that might include audience questions or comments, is in Kannada and is circulated through the WhatsApp platform. Listeners mainly include public high-school teachers — about 1,000, up from the 20 or so when Sharma first launched the programme. It's also available on public radio.
The Indian government is supporting the endeavour. K. VijayRaghavan, a molecular biologist and principal scientific adviser for the government, is a vocal proponent of making science accessible to people in their first language. He is working to provide increased funding and support for such efforts, and engages with many science communicators on social media, including Twitter.
Spreading influence
Other initiatives are emerging. Research Matters, a website that curates science news and articles in multiple languages and has more than 700,000 visitors, launched in November 2016. TED Talks India was launched in December 2017, and features prominent scientists who discuss topics such as neuroscience and astronomy in Hindi, the most widely spoken language in India. In January, the Indian Department of Science and Technology teamed with Doordarshan, a public service broadcaster, to launch two science-communication initiatives, DD Science, shown on Doordarshan, and Internet-based India Science. Both feature science-based programming in Hindi and English.
Others are also exploring the podcast realm. Last July, IndSciComm, an online science-communication collective, started Sea of Science, a podcast series in Hindi, Kannada, Marathi, Assamese and Tamil that talks about model organisms used in biological research. The series producers say that it is challenging to translate scientific terms and concepts into regional languages. "But working on them is just as much about love of language and wanting to reach out to people as it is an exercise of scientific understanding and language experience," says Shruti Muralidhar, a neuroscience postdoc at the Massachusetts Institute of Technology in Cambridge, and one of the producers. She says that they had to turn to online dictionaries, scientific lexicons and Google for support.
The producers also worked out a system of 'romanization' that helped them to keep some terms intact while maintaining the cadences and sentence structure specific to the language. While writing the script for the Tamil podcast, producer Abhishek Chari, a freelance science communicator in Cambridge, Massachusetts, had to translate the English word 'metabolism' into Tamil. Etymologically, it comes from the Greek word metabolē (from metaballein, 'to change') plus the suffix '-ism'. But trying to directly translate this word into Tamil (possibly with the term maatram, meaning 'change') won't capture the biological meaning that the word 'metabolism' is used to convey, says Muralidhar. "Looking it up on Google Translate, valarchithai came up as a Tamil equivalent of metabolism. This worked perfectly because valarchithai is a compound word consisting of 'grow' (valar) and 'disperse or shatter into pieces' (chithai), so the term would mean 'grow plus disperse'," she says. "The agglutinative (putting multiple words together) nature of the Tamil language came to our rescue."
Last June, Inbamuthiah partnered with the Bangalore Life Science Cluster (BLiSC) to organize The Jigyasa Project, a one-night presentation in Bengaluru of science talks and audience-interactive sessions in Kannada, Hindi and Tamil. A second presentation was held in December 2018. Each event included six scientist-presenters, had 100–150 attendees, and covered topics from genetics to intellectual property. The organization plans to continue to hold events every June and December.
The 12 scientists who took part agreed that their presentations were challenging because they required them not just to translate talks into another language, but also to translate the underlying scientific concepts. "I was quite nervous giving a talk in Hindi, and it was a big challenge for me," says Uma Ramakrishnan, a molecular ecologist at the National Centre for Biological Sciences in Bengaluru. "I thought about what I was going to say, and rehearsed it with some of my Hindi-speaking students, just to make sure I was communicating my thoughts correctly.
Local benefits
Ramakrishnan thinks that the effort to communicate science in languages other than English is very important, especially for field researchers like herself, whose work is local and regional, such as investigating tigers in Rajasthan or biodiversity in the Western Ghats, a biodiversity hotspot along India's west coast. "Doing fieldwork across India, my team and I have often informally communicated our research in Hindi or Malayalam to local people," she says. "For the people who live in these places, this is one way in which science can feel tangible and local. Platforms like Jigyasa provide an opportunity to make this more accessible to a larger audience."
Mahinn Ali Khan, spokesperson for BLiSC, says that she observed a real sense of camaraderie between the audience and the scientists at Jigyasa. "Speaking in your own language helps you immediately drop the formality and reserve," she says. Khan thinks that, although researchers are eager to engage with non-scientists, the shift to accepting science as a subject that can be discussed in a language other than English still faces some resistance from the public. "At this point, these are passion-driven projects for most of us," agrees Inbamuthiah.
If you have a career story that you'd like to share, then please complete this form, or send your outline by email.
Also Interesting

Focusing on the Negative is Good When it Comes to Batteries

New concept based on fluoride ions may increase battery lifespansNews Writer: Whitney Clavin An illustration of the electrolyte solution used in the new study, on the atomic scale. The fluoride ion (pink) is surrounded by a liquid of BTFE molecules.Credit: Brett Savoie/Purdue University Imagine not having to charge your phone or laptop for weeks. That is the dream of researchers looking into alternative batteries that go beyond the current lithium-ion versions popular today. Now, in a new study appearing in the journal Science, chemists at several institutions, including Caltech and the Jet Propulsion Laboratory, which is managed by Caltech for NASA, as well as the Honda Research Institute and Lawrence Berkeley National Laboratory, have hit on a new way of making rechargeable batteries based on fluoride, the negatively charged form, or anion, of the element fluorine.  "Fluoride batteries can have a higher energy density, which means that they may last longer—up to eight times longer than batteries in use today," says study co-author Robert Grubbs, Caltech's Victor and Elizabeth Atkins Professor of Chemistry and a winner of the 2005 Nobel Prize in Chemistry. "But fluoride can be challenging to work with, in particular because it's so corrosive and reactive." In the 1970s, researchers attempted to create rechargeable fluoride batteries using solid components, but solid-state batteries work only at high temperatures, making them impractical for everyday use. In the new study, the authors report at last figuring out how to make the fluoride batteries work using liquid components—and liquid batteries easily work at room temperature.  "We are still in the early stages of development, but this is the first rechargeable fluoride battery that works at room temperature," says Simon Jones, a chemist at JPL and corresponding author of the new study. Batteries drive electrical currents by shuttling charged atoms—or ions—between a positive and negative electrode. This shuttling process proceeds more easily at room temperature when liquids are involved. In the case of lithium-ion batteries, lithium is shuttled between the electrodes with the help of a liquid solution, or electrolyte.  "Recharging a battery is like pushing a ball up a hill and then letting it roll back again, over and over," says co-author Thomas Miller, professor of chemistry at Caltech. "You go back and forth between storing the energy and using it."  While lithium ions are positive (called cations), the fluoride ions used in the new study bear a negative charge (and are called anions). There are both challenges and advantages to working with anions in batteries.  "For a battery that lasts longer, you need to move a greater number of charges. Moving multiply charged metal cations is difficult, but a similar result can be achieved by moving several singly charged anions, which travel with comparative ease," says Jones, who does research at JPL on power sources needed for spacecraft. "The challenges with this scheme are making the system work at useable voltages. In this new study, we demonstrate that anions are indeed worthy of attention in battery science since we show that fluoride can work at high enough voltages." The key to making the fluoride batteries work in a liquid rather than a solid state turned out to be an electrolyte liquid called bis(2,2,2-trifluoroethyl)ether, or BTFE. This solvent is what helps keep the fluoride ion stable so that it can shuttle electrons back and forth in the battery. Jones says his intern at the time, Victoria Davis, who now studies at the University of North Carolina, Chapel Hill, was the first to think of trying BTFE. While Jones did not have much hope it would succeed, the team decided to try it anyway and were surprised it worked so well.  At that point, Jones turned to Miller for help in understanding why the solution worked. Miller and his group ran computer simulations of the reaction and figured out which aspects of BTFE were stabilizing the fluoride. From there, the team was able to tweak the BTFE solution, modifying it with additives to improve its performance and stability. "We're unlocking a new way of making longer-lasting batteries," says Jones. "Fluoride is making a comeback in batteries." The Science study, titled, "Room Temperature Cycling of Metal Fluoride Electrodes: Liquid Electrolytes for High Energy Fluoride–Ion Cells," was funded by the Resnick Sustainability Institute and the Molecular Materials Research Center, both at Caltech, the National Science Foundation, the Department of Energy, and the Honda Research Institute. Other authors at Caltech during the study include Christopher Bates, Brett Savoie, Nebojša Momčilović, William Wolf, Michael Webb, Isabelle Darolles, and Nanditha Nair.

Multidisciplinary Research: Pros and Cons

By bringing together experts from different disciplines we can find the solutions for today's global challenges. Having spent a year in a multidisciplinary research group, Mit Bhavsar shares his thoughts on the advantages and disadvantages of multidisciplinary research in science. The increasing popularity of mixed scientific disciplines like mechatronics, bioinformatics, biomedical engineering and biophysical chemistry is evidence of the importance of multidisciplinary. And, based on the number of multidisciplinary conferences taking place around the world, it seems that many policymakers agree that bringing scientists from a variety of different backgrounds together is a crucial part of fixing the world's problems. Going multidisciplinary does not mean leaving behind your own skills — it means heading in new scientific directions using your own specialties. I completed a neurophysiology PhD in a monodisciplinary research group. Now, I'm working as a postdoc in a multidisciplinary research group in the field of regenerative medicine. Here are my perceived advantages and challenges. Advantages One problem I've found with a monodisciplinary research group is a lack of creativity when it comes to working out what kind of work can be done. A multidisciplinary group can combine the expertise of your field with other fields and create a varied team. Such combination can lead to creative and high impact research. For example, my lab is working on tissue regeneration and repair through electrical stimuli. For such kind of research, one often needs expertise in the field of medicine and electrical engineering. For me, the most attractive part of multidisciplinary research is that you can work on projects that involve more than one discipline of science. This meant honing my existing skills and learning a whole lot more from scientists I'd never previously had a chance to interact with. As well as that, because I'm the only expert in my field in my group, I can work independently to address problems when they come up. Multidisciplinary research also leads to unusual scientific inventions. A lot of great science has come from the robust interactions of researchers from different fields. A good example of this is the discovery of "Magnetic resonance imaging" by Paul Lauterbur (a chemist) and Peter Mansfield (a physicist) — for this they were awarded the 2003 Nobel prize in Physiology or Medicine. An independent researcher designing and conducting their own separate experiments would never have had these opportunities. Challenges One of the common challenges of working in a multidisciplinary research group is a lack of a "common language." It's hard to find a way to start working on a problem when everyone has been trained to approach it from different directions. For me, this makes it difficult to discuss ideas with team members and get the right feedback. This problem feeds into feeling of loneliness — I'm surrounded by lab mates but I'm the only one working on this particular problem in this particular direction in my lab. Another issue: there is no meaningful criticism and evaluation of your work. Your ideas and suggestions are either accepted without any questions or they will be rejected without constructive criticism. If you can deal with these challenges, it can be very rewarding to do multidisciplinary science. To facilitate multidisciplinary research, universities and research institutes should encourage interaction between different disciplines where scientists can meet, share ideas and discuss problems. Mit Bhavsar is a researcher living and working at Frankfurt Initiative for Regenerative Medicine (FIRM) Frankfurt, Germany. You can contact him on: mbhavsa@gwdg.de

Q&A: Navigating academia and industry in India

What do you do? Do you enjoy it? Why? I am a doctoral candidate at the National Institute of Technology Karnataka. My dissertation focuses on intelligent systems for predictive modelling in financial applications. Aside from my PhD research topic, I enjoy working on problems that have the potential to make an impact through different aspects of research such as social, business and technology. Through my PhD programme, I have moulded research skills to work on funded projects or serve as independent consultant. What were your early career ambitions? After not performing well at school, my parents suggested that I take up a course at an ITI (Industrial Training Institute). This meant that I would be a skilled technician in an organisation after graduating. However, I decided to study for a Diploma in Electronics and Communication Engineering, which is technically a higher degree, as I did not want to limit my career prospects. The initial semesters were tough, but later I picked up with the help of learning in peer student groups. How did you make the decision between pursuing a career in academia or industry? Once I completed my diploma, thoughts of applying for jobs surfaced. However, at that time in India, a new scheme was introduced whereby diploma holders could apply and join the second year of an undergraduate programme. I stayed at the same institute where I had studied for my diploma and was awarded a BTech in Information Technology in 2007. Around this time, the economic recession was prevailing, the dot-com bubble had mostly subsided and the industry in India was changing rapidly. I felt that my place was not in industry, as I did not believe I had the excellent coding skills it required. I took up my first job as a lecturer on a contractual basis at Cochin University Engineering College at Kuttanad, which is a state-funded public university. After my first stint as a lecturer, I personally felt that academia provided a better comfort zone and space for professional growth. What were some of the challenges on your journey? Most of colleges where I worked already started to regulate for more qualified (PG/PhD) teaching staff. I was interviewed and received a job offer from Amrita University in Quilon in early 2008. But in that year, a breakthrough occurred while I was trying to qualify for GATE (Graduate Aptitude for Engineering), a national exam that provide chances to pursue Master's and PhD programmes. More recently, this exam has been a criterion for selection for some positions public sector companies. I received a strong grade and rank, which I don't think I would have got without the exposure and subject knowledge I'd acquired during my undergraduate training. What did you do next? After unsuccessful applications to graduate schools for Master's programmes, I worked for a short period as technical staff at an institute for a government funded project on digitisation of a library with nationwide reach. Later in 2009, I applied for an MTech (Master of Technology) programme at a state public university and was selected for a teaching assistance scholarship. As part of the dissertation project work, I applied for an internship at ISRO (Indian Space Research Organization). Even without support from the university or a scholarship from ISRO, I worked on a two-semester project on the development of a software tool prototype for space research applications, which resulted in a related IEEE publication. How does being based in India affect the way you work? There have not been many drastic changes in India, from academic point of view, in recent years. There are constant checks and performance reviews either in government posts or private institutions. To an extent, although private institutions offer higher salaries, they also demand a higher workload as part of accreditations that may actually work positively in long run. What advice would you have for others trying to work in a similar sort of environment? There can be a sense of lethargy and inertia certain positions. The best policy is to keep searching for grants for funded projects, extend your professional skills, such as research reviewing and talking at conference and workshops. Undertake student support programmes like mentoring and community initiatives for spreading knowledge. What do you love about living and working in India? In my case, the government funded my research and hence I feel a sense of moral duty to give back to my nation. India has potential for growth both scientifically and economically; at least historically that has been evident. What's your top career tip to younger colleagues? Stay focused and keep your eyes open for higher education and research opportunities. Reach out to your seniors, teachers and peers for advice. What else would you say to others trying to build a scientific career in India? From my experience, joining the best-ranked institute does not necessarily mean you will receive top training or skills, unless you have a true passion for your research. Smart work and motivation can instil students with the confidence to perform well and be recognised in academia. Make use of generous government scholarships as well as privately funded schemes.