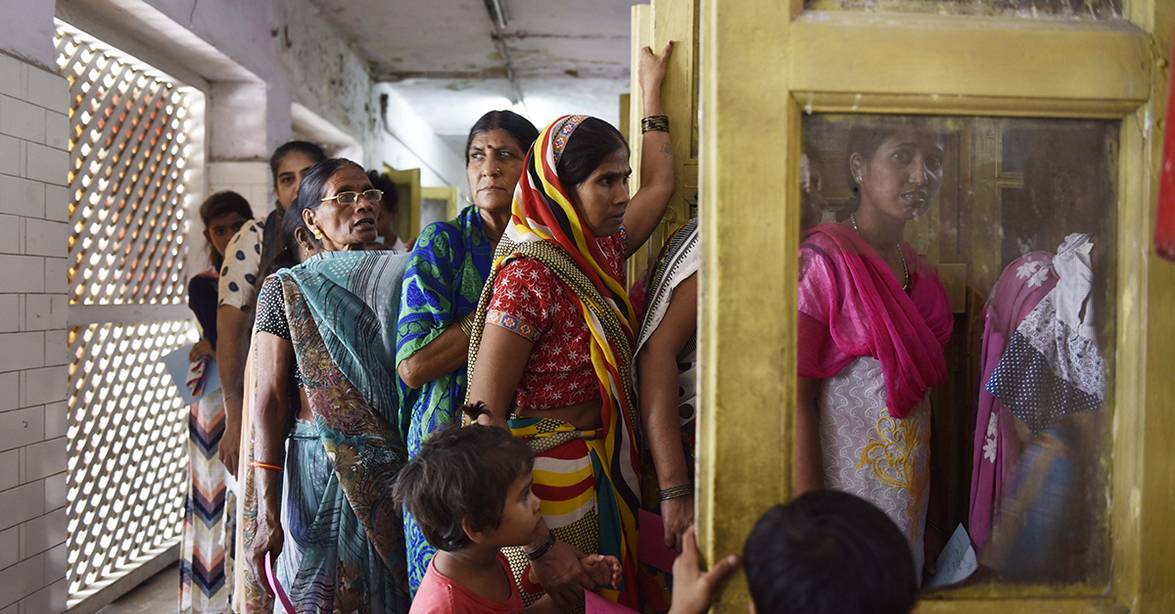 How Indian scientists have been scrambling to contain antimicrobial resistance for years
Antibiotics of last-resort are routinely being used for common clinical infections in India, putting young lives at risk.

In 2017, the World Health Organization (WHO) came up with a new classification system for antibiotics on its essential medicines list: Access, Watch, and Reserve. Antibiotics on the Access list were narrow spectrum antibiotics — only effective against a small range of organisms — that would be recommended as first and second treatment options for common clinical infections. Those on the Watch list were broader spectrum, able to tackle a wider range of pathogens and therefore considered more important for human medicine. The Reserve list describes antibiotics of last-resort; only for use when all other antibiotics had failed.
As SARS-CoV-2 wreaks havoc around the world, antibiotics have fallen off the agenda; they are completely ineffective against a viral infection. But antibiotics do work against the disease-causing bacteria that are responsible for millions of deaths worldwide each year. Antibiotic resistance was a critical health issue long before COVID-19 exploded into hospitals and headlines, and it will continue to be one long after the pandemic has been brought under control.
Antibiotics on the Access list are the ones that should be the most widely available and the most widely used, and the WHO says by 2023, 60% of all antibiotics consumed should come from the Access group. Unfortunately in India, that trend is going in the opposite direction, says Jyotsna Singh, program officer at humanitarian organisation Medicins Sans Frontiers' Access campaign in Delhi. One 2017 analysis found that while sales of key Access antibiotics had risen 20% since 2007-2008, sales of Watch group antibiotics had risen by 73% and sales of Reserve antibiotics increased by 174%.
"What we are seeing is that in the Access category there are medicines which are in shortage, which is becoming a huge problem," Singh says. It means that instead of treating infections in a targeted fashion, with antibiotics specifically tailored to individual pathogens, doctors are using broader spectrum antibiotics from the Watch and Reserve categories. Not only are these antibiotics supposed to be used only for more difficult infections, but they are associated with a higher likelihood of resistance developing. "You have to save Watch and Reserve for certain infections which cannot be treated otherwise," she says, "or in the long term patients' health will be put at risk."
This has already cost lives. Each year, more than 58,000 newborns in India are estimated to die from bacterial sepsis that is resistant to first-line antibiotics. Individuals in India infected with bacteria resistant to more than one antibiotic are two to three times more likely to die than those with non-resistant infections. Another study has found that 40 per cent of pregnant women and 60 per cent of schoolchildren are carrying strains of E. coli bacteria resistant to at least one antibiotic.
In 2019, India scored highest of 41 countries on the Drug Resistance Index — a measure combining both antibiotic use and resistance levels, and by 2050, antimicrobial resistance has been forecast to claim an additional two million lives per year in India.
But Satya Sivaraman, who develops communications strategies on antibiotic resistance with ReAct Asia Pacific — one arm of the global ReAct network created in 2005 to focus on antibiotic resistance — says many healthcare professionals face a bigger issue.
"If you talk to doctors on the ground about antimicrobial resistance, they'll say 'yes it's a problem in some cases, but the bigger problem is that we don't have antibiotics at all,'" says Sivaraman. In a country with such a high incidence of infectious disease, the lack of any treatment is killing more people than treatment resistance. It also means India is a huge reservoir of infectious pathogens: a "factory of disease production," he adds.
At the same time, antibiotics are being overused and misused to such an extent that even India's massive generic drug manufacturing industry can't keep up with demand.
New antibiotics
Singh says generic drug manufacturers — many of which produce copies of brand-name medications in India's thriving pharmaceutical manufacturing sector — blame the shortage on the low price set for antibiotics by India's price control mechanism, which limits what pharmaceutical companies can charge the government and consumers for essential medicines and makes them a far less attractive business.
Some state governments in India are taking matters into their own hands to ensure a supply of antibiotics. In 1974, for example, the state government of Kerala established its own, government-run pharmaceutical manufacturing operation — Kerala State Drugs and Pharmaceuticals — which supplies essential and life-saving medicines, including antibiotics, to government hospitals.
The other problem is that, around the world as well as in India, pharmaceutical companies are pulling out of research and development of new antibiotics, leaving it to governments to pick up the slack. Sidarth Chophra, microbiologist and professor at the Central Drug Research Institute (CSIR) in Lucknow, India, is hunting for new molecules specifically targeted at drug-resistant bacteria. One focus is the so-called ESKAPE pathogens which are responsible for the majority of hospital-acquired infections and which all show resistance to multiple existing antibiotics. CSIR is directly funded by the Indian government.
The speed with which bacteria evolve resistance to new antimicrobials presents a huge challenge, says Chopra. "I tell my students all the time, this is like playing chess with a grandmaster," he says.
Chopra and colleagues are trying every trick in the book to gain the upper hand. First, they're looking at existing drugs to see whether any might also show antimicrobial activity, because that can help speed up the drug development and testing process. One molecule showing antibiotic properties is disulfiram, which is normally used to treat chronic alcoholism.
They're also looking at molecules that might otherwise not be considered potential candidates because they don't meet the so-called Lipinski's rule of five for predicting compounds that are likely to succeed as drug candidates. "We are more than happy to look at unconventional molecules which a normal medicinal chemist would not touch with a barge pole," Chopra says.
Funding healthcare
Even if vital antibiotics become more widely available in India, there is still the problem of how, in a country with an overwhelmingly private healthcare system, many citizens could afford to access the doctors who prescribe them. A report published in April this year by the Center For Disease Dynamics, Economics & Policy, a public health research organisation based in Washington DC and New Delhi, found that 65% of health expenditure in India comes from the pockets of individual patients, compared to 13% in Germany. The cost of health care is estimated to drive 57 million Indian residents into poverty each year.
Philip Mathew, a public health consultant with ReAct, says that universal health coverage might help enable many poorer patients to access essential medicines such as antibiotics. "A universal health care system in developing countries can solve many, many issues associated with access to essential antibiotics," he says.
The Indian government is moving in that direction. In 2018, it announced the creation of the 'Ayushman Bharat — National Health Protection Mission' to provide health coverage worth up to 500,000 rupees (US$7,000) per family for 100 million poor and vulnerable families. The plan also includes 'health and wellness centres', which are intended to provide primary care, free diagnostic services and essential drugs. But there are questions about how the government of India will pay for the scheme, given its spending on public health is one of the lowest among low-middle income countries.
Another challenge is ensuring that clinicians in that healthcare system prescribe antibiotics appropriately. Because of their seemingly miraculous curative powers, antibiotics have become a victim of their own success. Patients — not just in India but around the world — have come to view antibiotics as a magic bullet for all ailments, and expect them from their doctor. "They are paying some fee to the private doctor for the consultation, and they want to know that they've actually taken some strong medicine back with them, so this whole cycle, the patient-doctor cycle, is completely skewed," Sivaraman says.
This situation is further exacerbated by climate change, which is changing patterns of infectious disease outbreaks, and contributing to the emergence of new diseases for which there are no or only recently developed vaccines, such as dengue and chikungunya. The latter re-emerged in India in 2005 after a twenty-year hiatus and since then, over one million cases of the mosquito-borne viral infection have been reported. A vaccine is now available, but has limited efficacy.
"These viral fevers get confused with bacterial infections and then people tend to use antibiotics, so that contributes to the problem," says Jyoti Joshi, head of South Asia at the Center for Disease Dynamics, Economics & Policy in New Delhi.
Changing the minds of doctors is one thing; changing the expectations of patients is another, says Ramanan Laxminarayan, director of the Center for Disease Dynamics, Economics & Policy in Washington DC. "Here you're saying 'don't take an antibiotic, not because it will necessarily harm you but because you're ruining the chances for someone else to be treated with that antibiotic. Human beings tend to work in selfish ways and in this instance it doesn't work out so well for us."
Cost of resistance
Every year in India, 1 million children die in the first four weeks of life. 190,000 of these deaths are attributable to neonatal sepsis, and just over 30% of those sepsis deaths are attributable to antibiotic resistance.
But the true scale of the antibiotic resistance is concealed by a lack of data, because when someone dies in hospital from infection, it's rarely recorded as a death from antibiotic resistance. "It's not something that the common man observes to say, 'oh my God: people are dying of drug resistance'," Laxminarayan says.
It is clear, at least, that antibiotic resistance rates continue to increase. Since 2008, the proportion of pathogenic bacteria found to be resistant to important antibiotics has risen significantly; in some cases, tripled or even quadruped.
In 2017, the Indian government released its National Action Plan on Antimicrobial Resistance. This identified six strategic priorities including improved awareness, better surveillance, reducing infection rates, and improved antibiotic stewardship. The priorities were aligned with global action plans on antibiotic resistance, but Joshi says this approach is not a magic bullet for all developing countries.
"The models that have worked in the 'developed' world cannot be copied back and implanted here … so you can't copy and paste," she says. While India now has an action plan, she says it's going to take some time for that cookie-cut plan to adapt to the Indian way of doing things.
"We need to really dirty our hands and get models that work for us in our settings with all the resource limitation and competing priorities, and try them out to control the scourge of antimicrobial resistance," she says. While there are likely to be successes and failures, she believes the country will learn from those experiences, "and then come out and say, 'yes, this is what can be done, and this is how it should be done.'"
Bianca Nogrady is a freelance science writer in Sydney, Australia.
Antibiotics in agriculture
Studies show that India's booming poultry industry is a potential danger to health.
While antibiotic use in agriculture has caused headaches in many western countries, India's primarily vegetarian diet has meant the problem of agricultural antibiotic use is much less severe. But, thanks in part to a booming poultry industry, it's becoming a bigger issue. Poultry samples have found resistance rates to streptomycin as high as 75%. Resistance rates to other antibiotics including ampicillin and rifampicin were over 40%.
"You have these huge poultry farms where there's a huge amount of overcrowding, and antibiotics are used to cover up your hygiene and biosecurity practices," says Robin Paul, Quality Manager in the State Laboratory of Kerala's State Veterinary Department in Kochi. A 2019 study identified India and China as the largest low-middle income global hotspots of antimicrobial resistance in animals, and singled out the antibiotic colistin — an antibiotic that the WHO recommends be reserved to treat multi-drug-resistant human infections — as a particular source of resistance and public health concern.
In July 2019, India followed China and banned the sale and use of colistin in the agricultural industry, because of the risk to human health. But Paul says more needs to be done to help farmers better manage their farms without resorting to antibiotics.
"The crux of animal health is to manage the health of animals so that they don't need to go on antibiotics," he says. But that can be challenging in a nation such as India, where there is widespread malnutrition and rising demand for protein, and Paul says farmers are likely to oppose any restrictions that could impact production. BN
Image: "Women queue at a medical centre in New Delhi, India, during a dengue and chikungunya outbreak in September 2016. (Photo by Saumya Khandelwal/Hindustan Times via Getty Images)"
Also Interesting

How Indian biotech is driving innovation

Bolstered by government support, a wealth of investment and an eager graduate workforce, the country's biotechnology industry is booming. Anu Acharya was in her twenties when the human genome was first mapped in its entirety. In 2000, the young Indian entrepreneur was just breaking into the biotechnology arena with her first start-up — the genomics and bioinformatics company Ocimum Biosolutions in Hyderabad. She saw the Human Genome Project's achievements as opening up a new world of possibilities in personalized medicine, informed by an individual's genetic profile and predispositions — but at the time, the field of genomic medicine was dominated by Western science. "I wanted to make sure that India had its own voice heard in that," Acharya says. So, a decade later, she launched her second biotech start-up — molecular-diagnostics company Mapmygenome, also in Hyderabad — to bring the personalized-medicine revolution to India's diverse population. "Because, ultimately, when you're making medicine precise, it has to be for specific individuals and populations rather than based on one population that has been studied." Acharya is among India's rapidly growing ranks of biotechnology entrepreneurs and start-ups that are riding a wave of government enthusiasm, free-flowing venture capital and growing demand from an increasingly wealthy population that wants better treatment options. These factors are helping to drive India's biotechnology industry beyond its historical focus on unbranded generic drugs and into the innovation limelight. By the end of 2016, there were more than 1,000 biotechnology start-ups in India, and more than half of these had been established within the previous 5 years. Australia, by contrast, has 470 biotechnology companies and the United Kingdom 3,835. The biotechnology industry in India was valued at US$11 billion in 2016, and is forecast to grow to $100 billion by 2025. More than half of the biotechnology start-ups are in the medical arena — diagnostics, drugs and medical devices — but 14% are in agricultural biotechnology, 3% in bioindustry, 1% in bioinformatics and 18% in biotechnology services. India is already eyeing the prospect of its first biotechnology 'unicorn' — a start-up valued at more than $1 billion. The potential unicorn in question, Biocon in Bangalore, started in 1978 as an enzyme manufacturer but is now making a name for itself in the research and development of biological drugs for treating diabetes, cancer and autoimmune diseases. By March 2018, its revenue had topped $650 million. India has long been a global player in the manufacture of generics (unbranded versions of existing pharmaceutical products), accounting for 20% of global exports of generics and earning just over $17 billion from that market in 2017. So what has prompted the nation to move beyond such a lucrative comfort zone and into the more risky game of biotechnology innovation? Government support In 1986, with the encouragement of then-prime minister Rajiv Gandhi, India became one of the first countries in the world to have a government unit dedicated solely to biotechnology. The Department of Biotechnology started with a relatively modest budget of between 40 million and 60 million rupees ($557,000–835,000), growing exponentially to 24.1 billion rupees in 2018. In addition to establishing 17 Centres of Excellence in Biotechnology at institutes and universities around the country, the department has supported the creation of 8 biotechnology parks, or incubators, in cities such as Lucknow, Bangalore, Hyderabad, Chennai and Kerala. The aim of these parks is to provide facilities for scientists and small to medium-sized enterprises (SMEs), where they can develop and demonstrate their technologies and even build pilot plants. The hope is that this will speed up the commercialization process. The park staff also provide mentorship and guidance on issues such as intellectual property, business plans, proposals for clinical development and exit strategies. This support is helping to address some of the logistical challenges that have hampered industry in the past, says Tej Singh, a biophysicist at the All India Institute of Medical Sciences in New Delhi and president of the Biotech Research Society, India. "They created some sort of industrial regions in many areas, but there were issues like electricity, water [supply]; all these small things used to take time," Singh says. "But the government has addressed these things nowadays; this current government particularly is very proactive." The Department of Biotechnology has also supported biotechnology research infrastructure, including a high-resolution mass spectrometry facility in Mumbai, flow-cytometry, imaging and microarray facilities in Delhi, and animal-house facilities in five other regions. The jewel in the departmental crown, and the scheme that attracts the most attention, is the Biotechnology Industry Research Assistance Council (BIRAC). This is a not-for-profit, public-sector enterprise that was set up by the Department of Biotechnology in 2012 to "stimulate, foster and enhance the strategic research and innovation capabilities of the Indian biotech industry, particularly start-ups and SMEs". "The idea of forming BIRAC was to support the innovation ecosystem in India, and to nurture innovators from academia and industry to work independently or together," says Shirshendu Mukherjee, mission director of the Program Management Unit at BIRAC. Mukherjee says India has always excelled at basic research but has faced challenges in translating that into commercial outcomes. BIRAC's mission is therefore to "take innovation from the bench to the bedside, from the lab to the field, from the desk to the market", he says. In just six years of existence, BIRAC has supported 316 start-ups, which have generated $125 million through 122 products and technologies, including a cattle-feed supplement, a new process to manufacture human albumin and immunoglobulin, microfluidics-based diagnostics and a rapid test for malaria. Its initiatives include 'biotechnology ignition grants' of up to 5 million rupees for start-ups and entrepreneurs to take a proof-of-concept through to the first major step on the path to commercialization. Another is a 'glue grants' scheme, which connects clinical-science departments with those for basic science in institutes and universities in the hope that this will encourage partnerships and collaborations. BIRAC has also joined forces with the Bill & Melinda Gates Foundation in Seattle, Washington, on the Grand Challenges India initiative to tackle global health and development problems. "I always call my Grand Challenges programme 'in India, for India and beyond'," says Mukherjee. "So we will do it in India, we will validate it in India, we will use it India, our citizens will use it, and then if it goes beyond India we are happy to do that." Consumer demand A similar motivation is driving at least some of the scientists and entrepreneurs such as Acharya, who get into the biotech space because they feel that Western biotechnology isn't necessarily addressing the needs of the Indian population. One example is Vivek Wadhwa, a technology entrepreneur at Harvard Law School in Cambridge, Massachusetts, and at Carnegie Mellon University's College of Engineering at Silicon Valley, California, who has invested in Indian medical-diagnostics company HealthCube in New Delhi. "I did a big study on the pharmaceutical industry in India, and I concluded that Western companies were not addressing Indian disease because it wasn't profitable enough for them," Wadhwa says. But as the cost of technologies such as genome sequencing and medical sensors comes down, Wadhwa says, it has now become viable for Indian biotechnologists to harness these advances for the Indian market. And what a market India is for these innovations. The country's population is 1.36 billion and rising, and health care is one of India's fastest-growing sectors, driven by higher incomes and an increasing prevalence of lifestyle diseases, such as heart disease and stroke. By 2022, the health-care market in India is expected to be worth $372 billion. "People are finally realizing that the consumer, or the patient, actually has control over their own health," says Acharya. The rising middle class wants better health and medical choices, and she says that's one of the main drivers for investment in biotechnology research and development. For example, Biocon has developed the first recombinant insulin to be produced in India, and an antibody-based treatment for head and neck cancer. In 2017, Indian vaccine manufacturer Bharat Biotech in Hyderabad began the first clinical trials of its vaccine against the mosquito-borne virus chikungunya, which re-emerged in India in 2006 after 32 years and infected more than 1.4 million people. Another major driver of the biotechnology boom in India is the accessibility of funding, from both government and private industry. In one 2016 report on biotechnology, India ranked only 49th out of 54 countries. But it scored particularly highly on the availability of venture capital compared to countries such as the United Kingdom, Australia and Canada. Acharya says that some of the investors who have made their fortunes in manufacturing generic pharmaceuticals are now investing in biotechnology. She says much of the capital investment in early-stage biotechnology is coming from India, whereas investment in medical devices is flowing from Japan, China and the United States. But late-stage investment is still an issue. "A lot of early-stage start-ups are getting funded but I think the challenge is still the late stage," she says. "It's not just the first two to three years; it's more how do you take it from start-up to scale-up? I think that's the challenge in terms of getting to where we need to get in terms of biotechnology." Human resources One thing India has plenty of is people. Recognizing that human capital can be a key resource for a nation not as well endowed financially as Western countries such as the United States or United Kingdom, the Department of Biotechnology implemented or supported various training initiatives. These include the Biotech Industrial Training Programme, set up in 1993 for recent graduates, and 12 Biotech Finishing Schools in Karnataka state to train Indian graduates and researchers in biotechnology. That programme "created a very large number of institutions or departments of biotechnology in institutions and also departments of bioinformatics", says Singh. For example, in September, the state of Gujarat proposed India's first university focused entirely on biotechnology. "A decade or so ago, India didn't have the engineers or scientists it does today — it's been graduating them in droves," says Wadhwa. "It has millions of technologists who now just need to be connected to the medical practice and they can be solving great problems." Singh notes that these graduates aren't waiting for a job to walk up and tap them on the shoulder; they're taking matters into their own hands. "Graduate students who come out in large numbers from Indian institutes of technology and institutes of management are not looking for jobs so much; they create small start-ups and then they grow very fast," Singh says. Working in biotechnology in India does present its own unique set of challenges, says Acharya. "Some operational things that you never have to think about in the United States you have to plan more in India, because a lot of times we are still importing the reagents and things like that." Red tape Although the government of India is enthusiastic about supporting the biotechnology industry, Acharya says the regulatory process for getting products approved could be more streamlined. In agricultural biotechnology, the government's Genetic Engineering Appraisal Committee has been working to make it easier for companies to get approval for genetically modified crop field trials from state governments. The drug approvals process in India has hit some rough patches in recent years, and the authors of a 2017 World Health Organization report suggested that innovation there could be outpacing regulation. Even the government's own National Biotechnology Development Strategy for 2015–20 acknowledges that timelines and regulatory steps for biotechnology drug approvals are not user-friendly. It has proposed reforms, including the establishment of regulatory departments that are fluent in good practice in the clinical, manufacturing and laboratory arenas. There are also concerns about the environmental impact of India's pharmaceutical industry. An investigation in 2016 found "unprecedented" levels of pharmaceutical pollution in the water system of Hyderabad (C. Lübbert et al. Infection 45, 479–491; 2017), which is home to a significant proportion of biotech start-ups and generics manufacturers. However, as the US Food and Drug Administration reportedly steps up inspections of overseas pharmaceutical suppliers, environmental standards could be forced to improve. Despite the challenges, there is palpable excitement about what lies ahead. "Right now, we are seeing the beginnings of a revolution in biotechnology in India," Wadhwa says. Acharya is still fired with the same enthusiasm that propelled her into biotechnology nearly two decades ago. "Any innovation in this space can actually impact lives," she says. "That's why I continue to be in it." This article is part of the Nature Spotlight on Indian biotechnology, an editorially independent supplement. Advertisers have no influence over the content.

Breaking the Curse on Science

Open data can help us avoid inherent biases in our work, says Ayushi Sood Better Science through Better Data writing competition winner Ayushi Sood Recently, an economist friend told me that "scientific inquiry is inherently cursed." At first I was offended. But I had to agree after he elaborated further – science today suffers from something economists enigmatically call the "winner's curse". The first scientific journals were print editions — something akin to a printed memo — circulated among researchers to update them of the findings of others in the field. To submit a paper for publication, only the observations required to prove results needed to be included in a manuscript, and rightly so: if every paper included every shred of data, journals would run into thousands of pages. This means, though, that what was communicated to the scientific community was only a fraction of what could have been communicated: only the observations that were 'winners' – the ones which best supported a result – would be presented, and the others would be effectively relegated to obscurity. Although we're not limited by paper and page counts today, the same pattern of data use continues. This leads us to the problem of the winner's curse: by the process of selection, the 'winning' observation oversells itself. In economics, the winner's curse refers to situations in auctions where the winner tends to overpay, because the actual value of the product is the average of the bids, not the highest bid. In scientific research, the curse takes hold in scientists who aim for publication in the most selective journals, with the most impressive results being favored. This ignores all the other results — the ones which weren't so impressive — while giving disproportionate importance to the 'winning result'. The problem with this phenomenon isn't immediately evident — isn't the result what actually matters? The data is, after all, just a tool, necessary only to prove what's important — the conclusion. In looking for conclusions in data, however, researchers can forget to ask: "does the conclusion effectively justify my repeated sampling of the real world?" In other words, is reality accurately reflected by the dataset presented? All the observations we take, whether they are inconclusive, negative, or 'winners', represent an analysis of the natural world. By only reporting the ones that work, the other sampling efforts cannot be used by anyone else. This process confers on a small, selected number of observations the authority to predict an unpredictable future! Back in the auction house, this would mean the value of the product is set only by the winning bid. When we report only the best set of data, we are relegating the less impressive observations to obscurity, even though these also represent an analysis of the real world, with real potential to inform. So what does this mean for us? How should scientists avoid falling into the trap of the winner's curse? One way would be to save, store and share all data — not just positive results. We are only human. By making our data openly accessible, we can avoid internal inconsistencies. The smallest of mistakes would be corrected by fresh eyes poring over the very same data. More importantly, open data could prove to be a shot in the arm for scientific inquiry as a whole. What data I find important may be perfect for my study, yet a small cluster of ignored numbers in my dataset could lead to a breakthrough for someone else, possibly in a way that I could never have imagined! Gene expression data in cancer cells could provide insights into cell signaling pathways in neurodegenerative disorders. Algal bloom observations in polluted lakes could help in effective biomass production for algal biofuel. The analysis and application of open data could usher in a new age of scientific connectivity, with the available knowledge transcending traditional discipline boundaries in way never seen before. Well, if it's so good, why hasn't open data been the norm since science began? We come back to the thousand-page journal here — the question wasn't of why not, but of how. Transmitting every single byte of data through papers and talks was impossible before the advent of computers and the emergence of the internet in the 1990s. In 2017, however, we have the tools at our disposal to store, parse, organize and retrieve every single digit. The burgeoning field of data science and analysis is ours to exploit, just waiting to script the next scientific success story. So, I have to hand it to the economists on this one — the winner's curse is alive and kicking in science. But, like any good scientist, I'm thinking of solutions, and every clue suggests that open data, accessibility and collaboration could be just the spell that breaks this curse. Ayushi Sood is an undergraduate microbiology student at Amity University, India. Her interest in what makes life tick made her fall in love with bacteria and astrobiology, and her passion for making scientific research more efficient and accessible led her to explore bioinformatics. She has been a part of research projects investigating nanoparticle-plant interactions, transgenic algae, and bacteria-algae associations. Ayushi enjoys dance, writing, and functional DIY craft. You can follow her work on Bitesize Bio and connect with her on LinkedInor Facebook.

Ageism in Academic Jobs in India

Farah Ishtiaq shares her experience on how age and success are linked in acquiring faculty positions in India India has recently been portrayed as a land of abundant opportunity in academia, investing seriously in research and development to attract skilled scientists. The government has introduced several attractive funding opportunities, with the aim of bringing back scientists working abroad to establish a long-term career here, and improving the overall research infrastructure. Wellcome Trust/DBT India Alliance (WT/DBT) fellowships, for example, have no age or nationality restrictions, relying on qualifications, research experience, career trajectory and the candidate's determination to establish their own independent research. The WT/DBT India alliance was initiated to develop a large cohort of internationally competitive researchers and help in developing scientific excellence and leadership; a model recently adopted and launched by the Alliance for Accelerating Excellence in Science in Africa (AESA) as well. Since Africa shares a similar burden of healthcare with India, as well as many workplace challenges, Indian scientists are perceived as key collaborators in this mission. There's a problem here though: age limits on academic positions. Prospective candidates for assistant professor posts in India are preferred by academic institutions to be younger than 35. Although funding bodies are not hiring agencies, the age limit imposed on faculty positions by academic institutions sabotages the driving principle behind these new funding opportunities — the current system is unable to absorb enough competent, experienced scientists. The dilemma for early-career researchers is serious; many fellows are facing this harsh reality and an uncertain future. Every research position has a maximum age limit in India; from a junior research fellow (JRF), with a cut off at 28 years old, to postdoctoral researchers where it is 35 (or 40 years for women). These limits put the Indian academic landscape in stark contrast with many other countries that also follow a tenure-track system. Overall, this makes India a viable option and destination only for scientists of a selected age class. And it certainly gets more complicated for women who want to pursue a career in science and raise a family, with very little allowance made for taking time out for such. I am now in my 40s, which prevents me from being offered an entry-level faculty position. I am also a recipient of a WT/DBT India Alliance fellowship. My funding allowed me to establish an independent laboratory to study the ecology and evolution of emerging infectious diseases in wild bird populations, but despite this incredible research opportunity, I feel my career clock is ticking faster than ever. Getting funding to do science is no longer a problem, but academic policies that prevent competent scientists becoming established are preventing me from succeeding. I feel redundant — surely the quality of my science should be the focus rather than my age? What I would have done differently Hopefully, this should give others like me some insight into avoiding some of the mistakes I made. First, I should have found a trustworthy mentor who could have helped me to navigate my career path. Never put all your eggs in one basket. I should have pitched my grant idea to multiple host institutions to maximise my likelihood of finding an institution that would guarantee a more permanent position by this stage. Do your homework in understanding the system and host academic institution. Even though I deferred my fellowship for a year as my daughter was too little to be left in a crèche, I realise I should have used that time to negotiate or better understand the policy or the institute's vision for a research fellow like me. Many academic institutions have no guidelines on the role, involvement and career development of academic fellows. Many academics fail to understand the role and potential of fellows like me and often consider them just as an extended postdoc — not as a long-term prospect or potential collaborator. Hence, I did not get enough of an opportunity to teach and to mentor PhD students. Having my own PhD students would have bolstered my career at this stage, and allowed me to evolve as a mentor. Local advice & mindset I've received various pieces of advice for improving my faculty application and to enhance my chances of a secure job — this was to publish my current research: i) without foreign authors; and ii) as senior or first author in more prestigious journals such as Science, Nature or PNAS. Whilst the first is possible, the second is easier said than done. Apparently, that was the only thing my CV was missing — a clearer demonstration of my calibre and merit as an independent researcher. Interestingly, for established faculty struggling to earn tenure in India, the culture emphasises quantity of publications rather than quality. And, whilst the second piece of advice (primarily from engineers, cell or molecular biologists) is sound, what was missing was perspective on research in the field of ecology — collecting and publishing groundbreaking ecology data in top journals can take years longer than other disciplines. The journals I have been publishing in are not familiar to some of the members of recruitment panels I've met with. I have even been asked if 'Ibis' and 'Parasites & Vectors' were proper journals. Should India be a role model for developing nations? We are struggling to keep our skilled workers, despite the spending per researcher being equivalent to a developed nation like the UK. I hope other developing countries don't replicate the above policies, as they certainly don't help to address some of the major longer-term developmental challenges, including a shortage of researchers. In India, with only 200,000 full time researchers (and only 14% of them women) from a population of 1.3 billion, new research institutes currently being developed end up short of skilled workers and blinkered to new research areas. This all said, I am still very excited. I have a competitive edge and enthusiasm for research where I can play a leading role in high-quality research. Perhaps, it's time to explore science career options elsewhere, maybe in Africa, and hope no one will question my age?